** New TotalFinder 0.9.9 is out. Nothing exciting here.
Just embarrassment that I managed to break auto-updater. **

http://downloads.binaryage.com/TotalFinder-0.9.9.dmg
Hey you! Don't click that button!
I didn't notice it, but I broke the Sparkle updater in previous releases.
The relaunch script is missing in 0.9.7 and 0.9.8.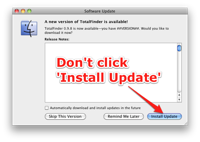 Instead of clicking 'Install Update', please directly download TotalFinder 0.9.9 and install it manually from the DMG archive.
To prevent something like this in the future I have created small script which is able to extract DMG plus all pkg files inside and tell me the difference between releases. This enables me to do a final check of what is going to be included in the new releases. The build process is too complicated to trust (XCode4 is alpha).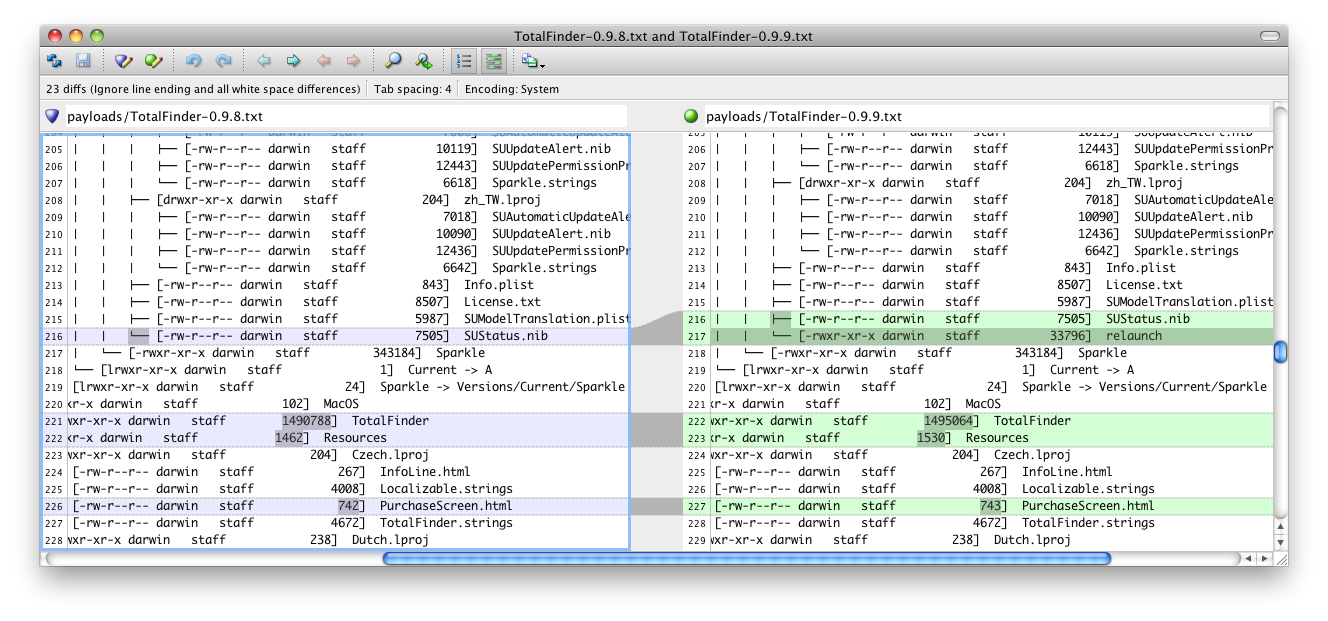 This way I can spot unwanted file inclusions/exclusions or unexpected file size changes in future releases.
Please switch to BETA updates channel
I want to prevent future broken releases, so I have introduced two channels for updates. The idea is similar to Chromium update channels. You may stick with:
Stable Channel - contains infrequent well-tested major versions (1.x line)
Beta Channel - contains frequent minor versions (1.x.y line)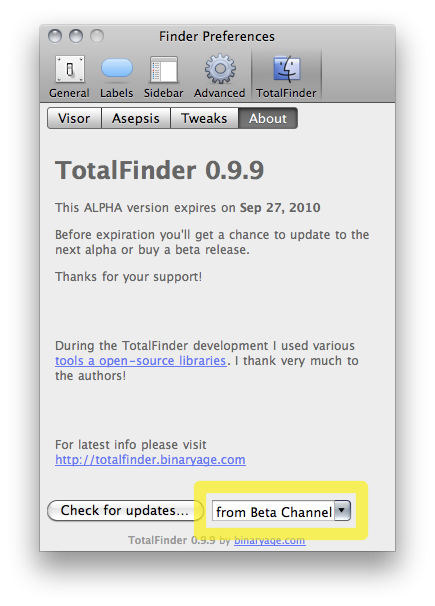 I expect you, readers of this blog, to switch to the BETA channel and stay on the cutting-edge TotalFinder version to help me catch any possible problems before launching to a wider audience. Also this enables me to be much more agile in releasing new versions. Thanks!
Compatibility with future Finder
Since I'm a fresh member of a Mac Developer Program I was able to prepare and test TotalFinder with the future Finder version (10.6.6). All looks fine. Don't be afraid of updating OSX when the time comes.